There is typically a spring harvest (July) and an autumn harvest (October).
All our honey (and bees) are kept and harvested with organic and sustainable practices.
Spring honey is lighter in color and sweeter.
Fall honey is darker in color and has a stronger, more robust flavor.
Our common sizes and prices (varies by season and availability of glassware):
Spring Honey:
1/2 pint (~0.7 pound) = $8 /each or 2 for $15
1 pint (~1.3 pounds) = $13 /each or 2 for $25
Autumn Honey:
1/2 pint (~0.7 pound) = $9 /each or 2 for $17
1 pint (~1.3 pounds) = $14 /each or 2 for $27
One of Each:
2x 1/2 pint (~0.7 pound) = $16
2x 1 pint (~1.3 pounds) = $26
-----------------------
1 quart (~2.8 pounds) = $25 Spring / $27 Fall
(Limited availability)
RETURN OUR JARS/LIDS/RINGS FOR A 50c/EACH CREDIT ON YOUR NEXT PURCHASE.
Honey is available for purchase at certain times/events (follow us on Twitter for details) and may be available for pickup or delivery. We do not sell in any local stores, we're way too small and "artisan" for that-- but we also believe that makes our honey better. We do ship-- but only for friends/family at this point (contact us directly) at $60 for 3 pints, $70 for 6 1/2 pints and $65 for a combination of sizes.
Generally speaking, our honey sells for about $10/pound (not counting the glass jars/packaging).
We prefer glass jars because they are reusable, either by you, or by us (we would love to refill or swap out the glassware with our repeat customers) but they are more expensive than the more common plastic bottles. As mentioned above, we will happily buy back OUR jars/lids/rings for $0.50/per set.
Please note-- while we are using rubberized lids, we do not heat/pressurize the jars, so the seals are still "new" for your reuse as canning lids.
Contact us by email for to arrange a purchase: DandelionApiary@Gmail.com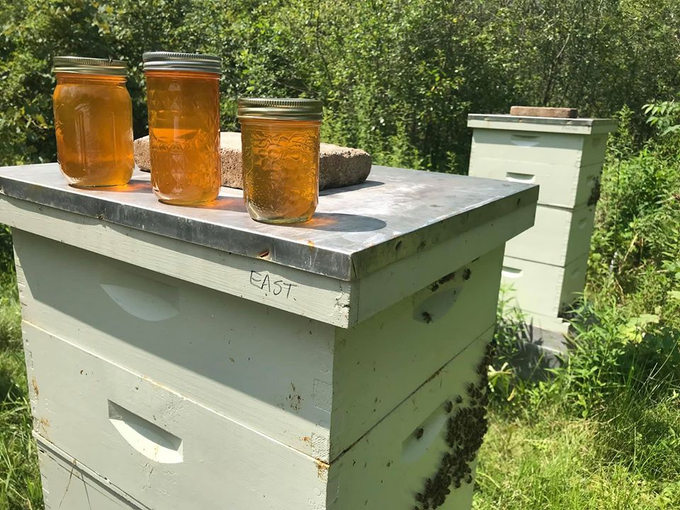 We will also sell specialty/custom packaging if you're interested in doing wedding favors, business promotions or baby showers. Due to higher packaging costs and labor, the per pound price/packaged for these will likely be higher. For instance, 2 oz. hexagon jars with spring honey run about $3/each (see picture below). We can also do custom labels.
If you are interested in ordering a batch of these, we kindly request you contact us well in advance, if at all possible, so that we can bottle it directly at harvest time and minimize the handling/repackaging of the honey. We also do not stockpile this jar size and have to order them, so lead time is necessary.