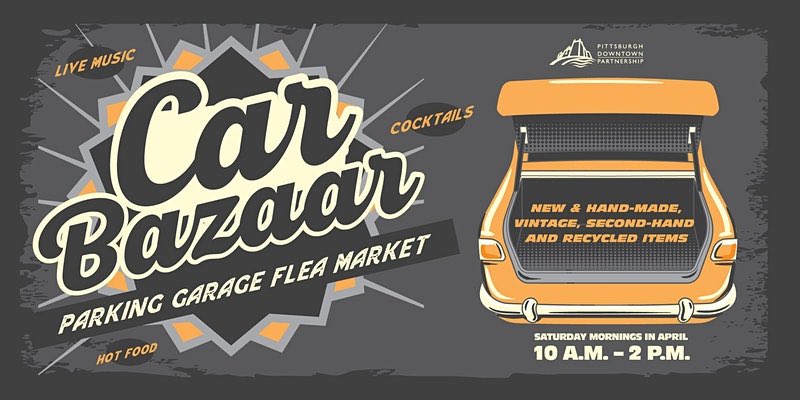 The Pittsburgh Car Bazaar at Penn & 6th St Garage this past weekend was a great success for us! I realize now that I read that-- in my head-- in Borat's voice. I would not read it out loud like that, or at least I would not admit to it. But I digress... It was great to meet many of you and we will be BACK for the April 24th Car Bazaar! Here's how the first one went:

I should first preface this by saying that we went to the April 3rd event to see what the lay of the land would be like and get an idea of what we should pack. We were already booked for the 10th because we discovered too late that the 3rd was sold out for vendors well in advance.

The car bazaar is held on the top three floors of the Penn & 6th St Garage in downtown Pittsburgh. I'm not sure what the "discounted parking" on the lower floors is like for shoppers, but the garage is quite large and I can't imagine there being a shortage-- and more details can be found on their website.
When we went on the 3rd, we parked on the North Shore Trail lot underneath the Veterans Bridge and walked in from there-- walking was as much of an attraction as the bazaar for that trip. I really love the North Shore Trail for its amazing views of downtown and easy access to Point State Park and, well, ALL of downtown. Pittsburgh is very fortunate to have trails like this along the most of the riverbanks.
We approached the garage from Penn Ave and, I have to say, that entrance is quite hard to spot and there was no signage (maybe they added some for the second event). The organizers did have a tent/pamphlets and guides stationed at the car entrance on 6th St., which is also where the main lobby for the garage is located-- so I recommend entering there and grabbing an elevator.

Be forewarned that getting to the top of the garage by foot is a pretty big hike-- it's only 6 levels but it's probably more like 12 stories. I discovered that after a last minute bathroom run when I decided I was super young and super fit and would just jog back up to the top. It was farther than I expected!
I recommend hitting the elevator and going to either level 3 or 6. It doesn't really matter because of the layout of the garage you'll end up walking downhill for half the bazaar and uphill for the other. Go to 3 and do uphill first or to 6 and do downhill first.
You'll find a pretty wide variety of items for sale, selection and pricing. I know that the Saturday we sold was a big improvement over the perusing we'd done on the weekend prior. There were more vendors, better goods, greater selection and (most importantly to us) more shoppers. I hope the event's word-of-mouth and attendance/demand improves all through the month and this becomes an ANNUAL event on the downtown calendar.

As for the selling experience, we were really happy at the end of the day with how it all went. You don't get to choose where you're assigned to set up and we were OVERJOYED to find ourselves up on the roof top deck where the sun was bright (makes the honey look better than being in the shade) and the skies were blue and breezy. IT WAS A GORGEOUS DAY. I can't state that more emphatically - it was really perfect.
Many people came up to purchase and we have a lot of other people who had questions and/or wanted to chat about bees and beekeeping. We have flyers that we include with all purchases (and hand out to anyone even vaguely interested) that detail how to decrystalize honey and includes our web address. You'll find the decrystalization info on the "What is RAW honey?" page here too.
We're hoping that some of you who wandered by and read our flyers will seek us back out for future purchases, or maybe just catch us on April 24th when we'll be selling downtown at the Car Bazaar again -- but come early, there's a reasonably good chance we will sell out. Unlike other vendors, we only have what the bees make and can't make more until they do!
Currently we still have spring and fall in both sizes, but I believe we're down to about a dozen each in pints and 4-5 spring half pints, maybe two dozen fall half pints. Might be an early wrap for us that weekend.

We are planning to use the proceeds from these sales to get a new extractor before the next harvest in July. If you missed us at these sales and are looking for honey-- you'll want be checking back for updates on our supplies and harvest times.