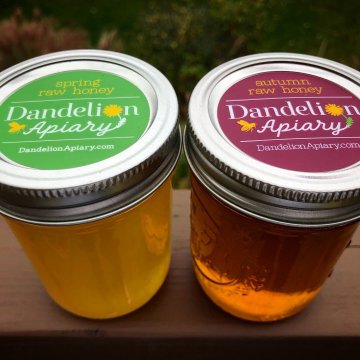 BUY NOW!
Total Fall honey harvest this year is 104 pounds. Which is interesting, because many Beekeepers are reporting huge year-over-year shortfalls due to the drought we've been having, but we're only 5 pounds less than last year.
If you read our earlier blog post, you saw we had some interesting timing issues with this year's harvest. Though we'd pulled the honey off the hives in mid-September, we ended up putting them back on (AFTER hauling half of them up the hill) in hopes that the bees would cap more of the honey.
A week later we check again and saw that they had-- one of the rare instances where the bees ACTUALLY did what we wanted them too! We moved the honey up to the house and tested it... only to find that the moisture content of some frames was too high to extract.
The whole extraction process is SO messy that if we can't do ALL the honey, we don't do ANY of the honey, so we decided to let the honey "dry out" inside for a while. In simple terms, if you jar up honey that is too "wet" it can ferment... and we are not in the
mead
-selling business!
That delay turned into two weeks pretty quick, just because this isn't our "day job" and it takes a solid weekend's worth of work to go from frames to sale-ready jars.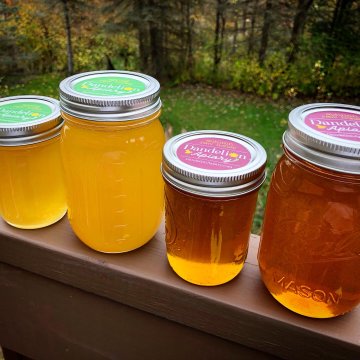 Finally, on the weekend of Oct 24/25 we checked the honey again and found it was all well below the threshold and ready for extracting. We are really hoping this is our last season with a hand-cranked extractor! I think finding an electric one will be a winter pursuit.
With all the reports of drought affecting honey yield (no rain = no nectar in flowers = no honey), we were concerned we'd have a dismal total. Fortunately, we tallied just 5 pounds less honey than last year-- but lest we celebrate too much, we if extrapolate the year-over-year gains in spring honey it would suggest that we *should* have harvested another 40+ pounds than what we did.
Nonetheless, our resourceful bees found enough nectar to "SHOW ME THE HONEY" and we are happy to debut our new labels on this *gorgeously* amber-colored honey. It's quite amazing to look at.
We are also keeping prices the same as the spring honey, even though we have half as much to sell, because I was able to score a decent deal on the jars prices despite a shortage locally. It's already selling pretty fast by word of mouth among our friends/family, so if you're interested... hit us up on the email here!